After a lifetime of writing non-fiction, my first novel has been published by Wildhouse Publications in July 2021. It wasn't easy to make the transition to the bewitching world of storytelling, let me tell you. But there is something incredibly satisfying about writing a moving story.
Called The Winding Way Home, here's a precis.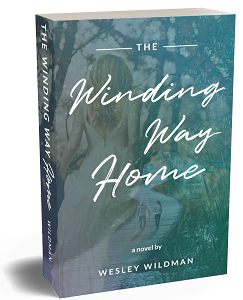 When Jesse and Alexandra's youngest child Becca is taken from their home in the middle of the night, a happy family's life shatters. Jesse's grief triggers a full-blown psychiatric crisis, which spurs a most unusual spiritual quest in an attempt to find a way to feel at home in what suddenly seems like a cruel world. In the midst of her own trauma, Alexandra is diagnosed with Alzheimer's disease, further pitching the family into desperation. Jesse's weekly breakfast with his two sons, along with Alexandra's determined efforts to fight the erasure of her memories, holds the family together despite the agonizing uncertainty surrounding all of them, and the futility of their ongoing search efforts for Becca. Jesse and Alexandra find themselves drawn into the horrifying world of missing and abducted children and the minds of their captors, and eventually adopt an abduction survivor named Maddy and her young children. Together, they forge a new and expanded family, and create a home where everyone can heal. This is a family saga, a love story, an account of child abduction and its exacting aftermath, a tale of hard-won hope, and a profound exploration of the spiritual potential of ordinary life in the face of the unthinkable.
How can you find it?
The Winding Way Home is available from Amazon, Barnes & Noble, and a bunch of other booksellers.
And here are comments from early readers.
Disturbing, inspiring, daring, heartwarming, this is a novel of family, of terrible events, of deep and patient love (the erotic is not neglected), and of ultimate experiences and mysteries. The prose is engaging, the storytelling deft and resourceful, the vision of life opening into a larger vision of Being Itself.
—Brian Jorgensen, Professor Emeritus, Department of English, Boston University
The Winding Way Home is a story about constructing meaning after unspeakable evil renders reality absurd, about the power of love to transfigure traumas that are beyond the reach of healing, and, ultimately, about the immense beauty, unspeakable wonder, and infinite spiritual vitality of everyday life. Providing a searing vision of the depth dimension of human life shorn of all supernatural obfuscations, it's a must read, especially for the spiritual but not religious crowd.
—David Rohr, Center for Mind and Culture, Boston