Taylor Thomas is a PhD student in theology, ethics, and philosophy at Boston University School of Theology and a Lindamood Fellow at the Center for Mind and Culture. Below is Dave Rohr's interview with Taylor regarding her recent publication of "Hope in Imperfection: Toward a Naturalized Theology of Grace" in the American Journal of Theology and Philosophy.
Dave Rohr: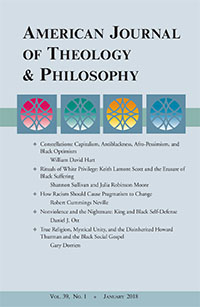 So my first question is, were you raised religious? And, if so, how did you come to be embrace philosophical naturalism?
Taylor Thomas:
I was raised Southern Baptist, as deeply Southern Baptist as you can get, with a little bit of Pentecostal and nondenominational holiness tossed in there every other Sunday. And then when I got to college, I did the normal take a few philosophy and religion courses and question everything, you know, God is dead, etc. And when I got to Boston University, I met up with Wesley Wildman and he introduced me to religious naturalism and I kinda felt at home there. I was never in a position where I wanted to abandon all of the religious stuff that I had been raised in, cause the symbols and the traditions and the rituals were still really important to me. So I wasn't a full blown atheist. But the philosophy associated with the religion I was raised with didn't suit me particularly well. Like I could find no satisfactory theodicy – they're all garbage. So that's where I landed.
Dave:
Yeah, that makes sense. That's actually pretty similar to me really – came with a bunch of questions, met Wildman, and realized there were other options that weren't on my radar.
Taylor:
Yeah, there's more than two, it turns out.
Dave: [laughing] Yeah,it's kinda nice to know!
Dave:
So this paper, "Hope in Imperfection: Toward a Naturalized Theology of Grace," develops something like a naturalistic account of grace. Can you summarize that naturalistic account of grace?
Taylor:
Yeah, it's sort of my way of naturalizing grace. Just because I think it's an important concept, especially to Christianity, but to other religions too. But I'm also trying to think about what an ethic predicated on grace would look like and how that would operate outside of religious circles, which is sort of the naturalistic turn. So, you know, I guess the first step in that is to divorce it from the agency of God and the dependence on God's agency, which is where I try to go. But more than that, I just want to universalize it as a way of seeing ourselves in a more ontological light and in a more fundamental way than I think we currently see ourselves. Seeing ourselves that way can help to actually embody practices that help us extend grace to other people in our regular lives. So, I guess it's two-fold. Part of it is the attempt to develop a systematic theology of grace in a naturalistic framework. But then the other half is just practically speaking, how can people apply those concepts to their normal interactions? I mean, our discourse is not ordinarily characterized by any extension of grace or empathy.
Dave:
Especially lately.
Taylor:
Yeah. It's a problem.
Dave:
So in a naturalistic framework, what is grace? What does that term refer to? As you say, grace is often related to the agency of God, saving people or whatever else. So what does grace refer to in an naturalistic framework?
Taylor:
According to my framework, I'm identifying grace with a tendency within human beings to identify our own flaws and then work within the universal process that we are a part of to correct those flaws. It's, it's sort of Tillichian in the sense that we have these moments of clarity or we have the ability to work towards greater modes of clarity and then change our orientation in the world in response to that. That's why I use Charles Hardwick's work so much, because his interpretation is all existential. It's all about grace's liberative role, the freedom it gives us in certain moments. I'm just basically taking that and trying to think biologically or evolutionarily to point to something real in the world, which is why I develop the neuroplasticity part of the paper. To say that, yes, we are creatures that have these capacities and these sort of maladaptive components of our personhood now. But we also have built in us the capacity to change radically. I guess I would define it as the ontological condition necessary for change.
Dave:
Right. So grace refers to special moments where opportunities for transformation open up. They're not necessarily supernatural. They're tied to neuroplasticity and our ability to adapt, but they're real. And they're things that people can find if they have their eyes open looking for it.
Taylor:
Yeah. And I think where I diverge, especially from Tillich, is that I want people that see themselves as having the agency to pursue that. It's not just a random moment that you happen to have. It's like you said, you find grace if you're looking for it and you're actively engaging.
Dave:
You already touched on this a little bit, but how does the kind of grace you develop in this paper relate to other figures you mentioned like Tillich and Hardwick, who you already mentioned, but also Gordon Kaufman and Wesley Wildman? Is there anything else you want to say about the inspirations that you found in other theological thinkers?
Taylor:
Wildman really helps with the integration of science and religion. I relied on him a lot for that. I mean the only real place that I differ from some of these thinkers is that I'm trying to attach the theological category to physical things about our bodies and in the world. But really the philosophy was already there. I really don't have any grievance with Hardwick's account. It's really, really good. It's super hard to understand for a first year student. It took me a couple of years to actually get it, but his account is a good one. I guess I focus more on the ontological dimension than he would.
Dave:
One of the other themes running through the paper is prejudice. Do you think that this naturalistic account of grace offers any hope for our ability to overcome various kinds of prejudice?
Taylor:
I mean the title includes the word hope for a reason. I think it does, if people are willing to be held accountable. But I also realize that what I'm asking is actually really hard work, because it's self-implicating. In order to think about grace, in my terms, you have to think of yourself as being responsible for your flaws. And that, yes, we live in a society that has different degrees of structural injustice that presses down on people in different ways. But at the end of the day, it's still a moral imperative for people to take responsibility for their place in the world and their limited ability to adapt and change. So I think if it's taken seriously, then there's hope. I don't know if I have hope that people are going to want to do that work. That's a different question.
I think the hope for me is that we're not just predetermined by our biology. And there's also a different kind of hope because people are already thinking ontologically about the world, especially about prejudicial issues. I mean that much is true, especially when it comes to race and gender. We already think about the world in these terms. So I'm suggesting a less shallow ontological lens and something that speaks more fundamentally and universally to humans that we can all kind of jive behind.
Dave:
Zooming out to a very big question, what do you see as the value or the purpose of theology within a naturalistic framework? That's really a question I ask myself, and now I'm putting it to you hoping that maybe you can help me.
Taylor:
I'm gonna pull from [Robert Cummings] Neville's work here and say that religious symbols articulate something that we can't just fabricate ourselves. Even Paul Tillich says this. A religious symbol is not something that you can just come up with. And so even if you're a naturalist, the cross or other symbols in Buddhism and Hinduism and in other religions, they articulate some sort of ultimacy. I guess they sort of transcend our normal mode of engaging with the world and thinking about the world and allow us to see ourselves differently. And I think that's the value of adding theological depth. For instance, when Wildman refers to cognitive bias as sin that just solidifies something in your mind about what that really means and how culpable we are for that part of our cognitive hardware. It brings the conversation into a different frame of reference where the symbol is loud and clear. Most people, especially in America, know what sin is. We often refer to slavery as our original sin.
Dave:
So it's kind of the idea that these symbols have a weight and depth of meaning that gets built up over thousands of years and you can't just make something new up that's gonna have the same depth of meaning and potential transformative effect?
Taylor:
Yeah, I don't think so. That doesn't mean that new symbols aren't going to emerge. But at the moment we have what we have and what we have are symbols deeply embedded in our culture. For instance, I don't think the concept of God is ever going to just go away, as much as some people want it to. And I don't know that it should. It's a really helpful concept to have to think about our humanity and the smallness that we feel in our finitude and how we fear that.
Dave:
That's beautiful. Finally, I was curious, is this your first peer-reviewed published article?
Taylor:
I've published something in a magazine, but I don't really count that. This is the first big one.
Dave:
So my question is, did you learn anything from the peer review process? How was your experience of that? Was it helpful?
Taylor:
I think it was. I had submitted an earlier draft to a couple of journals before, and the first time I was told that it was "derivative" and "unoriginal." And so I had to do lot of work, and then a year later it finally got accepted. I also learned that it takes forever to finally get published. By the time it was finally rolling out, I was almost sick of working on the paper.
Dave:
Yeah, it's one of those things. I remember my first published paper. Just getting the critical feedback was hard – I didn't even want to look at it. Because you worked so hard on this and then to have it criticized. But eventually you learn that it's helpful. Eventually you realize it's a privilege to have somebody else who's smart and can understand the paper, reading it and willing to give feedback. Good feedback is hard to come by, you know? So I was just curious whether or not it was a good experience for you.
Taylor:
It was fine this time. I've definitely had really bad experiences though. One time I submitted a paper on rural Appalachia to an Appalachian journal and the reviewer said that "obviously this person has no idea what it's like in rural Appalachia." And I'm like, "Oh, I grew up there for 25 years." You just have to take what people say with a grain of salt. But I recently got feedback from a different journal and the article was rejected with conditions for resubmitting, which was kind of optimistic. And I was frustrated with the criticism at first, but then I realized that, actually, it made perfect sense. So yeah, it can be helpful. And also it can be kind of crappy.
Dave:
Totally. It's often both at the same time. Well, in general, congratulations on the publication. It's an excellent article and something you should really be proud of.
Taylor:
Thank you.