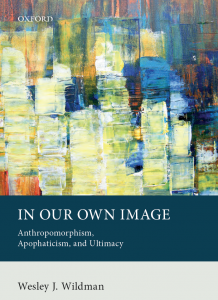 Oxford University Press recently released In Our Own Image: Anthropomorphism, Apophaticism, and Ultimacy. You can find out more about the book here. This is the second volume in my Religious Philosophy series, and the fourth of six to appear. The sixth volume, fifth to appear, is Effing the Ineffable, coming out with SUNY in mid-2018. That leaves just one more volume to get out the door: volume 3 on Science and Ultimate Reality.
Friends tell me they have been biding their time, waiting to see me write more directly on ultimate reality. In Our Own Image does that, in a comparative way, but also in a constructive theoretical way, working across disciplines and religious-philosophical traditions, as is usual within my home turf of transreligious philosophical theology and philosophy of religion. The Mystical Philosophy series is devoted to that task but supporters and critics no longer have to wonder what I think about ultimate reality.
Some of my books stay with me more than others. This one is like that. The insights documented in its pages strike me as stable – not a small thing – and potentially important for comparative philosophical analysis of conceptual models of ultimate reality.
I'm eager to get the final volume of the Religious Philosophy Series published so that I can move on to the Mystical Philosophy Series. But the Outreach Series is taking up a lot of time right now, with a string of books in the hopper. As usual in this business, everything is about time management and clear-headed goals. I'm pretty good at both of those things, but unfortunately they are not always in sync.
I hope a few people benefit from In Our Own Image. Theologians and philosophers are still getting used to the idea of transreligious theology, as well as radical multidisciplinary approaches to philosophy of religion and philosophical theology, I realize. But this is an accessible instance of these features and good opportunity to consider fundamental questions in philosophical theology and philosophy of religion.