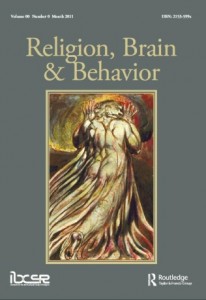 A new journal on the scientific study of religion is about to begin publication. The first issue of Religion, Brain & Behavior is to appear in February 2011 from Taylor & Francis journals. Neurologist Patrick McNamara (Boston University), Anthropologist Richard Sosis (University of Connecticut), and Wesley Wildman are the co-editors, with James Haag (Suffolk University) as assistant editor.
The aim of Religion, Brain & Behavior (RBB) is to provide a vehicle for the advancement of current biological approaches to understanding religion at every level from brain to behavior. RBB unites multiple disciplinary perspectives that share these interests. The journal seeks empirical and theoretical studies that reflect rigorous scientific standards and a sophisticated appreciation of the academic study of religion. RBB welcomes contributions from a wide array of biological and related disciplines, including cognitive science, cognitive neuroscience, evolutionary psychology, social psychology, evolutionary anthropology, social neuroscience, neurology, genetics, demography, bioeconomics, neuroeconomics, physiology, developmental psychology, psychology of religion, moral psychology, archaeology, mimetics, behavioral ecology, epidemiology, public health, cultural evolution, and religious studies. In summary, RBB considers high quality papers in any aspect of the brain-behavior nexus related to religion.
RBB publishes high quality research articles, target articles with about ten solicited commentaries and an author response, case studies, and occasional review articles. Issues are published three times during 2011, and four times annually from 2012 onwards. All articles published in this journal have undergone a rigorous process of peer review.
The prestigous Editorial Board of Religion, Brain & Behavior and information about how to submit articles for the journal is posted on the journal's home page at the Institute for the Bio-Cultural Study of Religion, and also at the Taylor & Francis site for the journal.