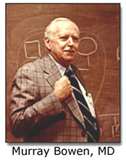 The fifth "Wisdom of the Ages" conference is to be held on Friday July 23, 2010 at the Holiday Inn in Gaithersburg, Maryland. The traditional theme of Bowen Theory in these conferences is being focused on this occasion on my Religious and Spiritual Experiences, to appear with Cambridge University Press late in 2010. My  two keynote lectures during the day are entitled "The Description and Range of Religious and Spiritual Experiences" and "Religious and Spiritual Experiences in the Future."
The respondents to the lectures are three distinguished thinkers and authors.
Daniel Papero, Ph.D., LCSW, is senior faculty at The Bowen Center for the Study of the Family where Dr. Bowen invited him to serve in 1982. He has written numerous articles and book chapters on various aspects of family systems theory and family psychotherapy and, in 1990, published a basic introduction to family systems, Bowen Family Systems Theory. Dr. Papero is a well known national and international teacher presenting to various professional groups on science and neuroscience as they relate to family systems theory and the functioning of families and society. Dr. Papero maintains his consulting practice in Washington, D.C.
John F. Haught, Ph.D. is Landegger Distinguished Professor of Theology at Georgetown University. His area of specialization is systematic theology, with a particular interest in issues pertaining to science, cosmology, ecology, and religion. He is author of numerous books including God After Darwin: A Theology of Evolution; Science and Religion: From Conflict to Conversation, and Deeper Than Darwin: The Prospect for Religion in the Age of Evolution. He established the Georgetown Center for the Study of Science and Religion. His most recent book is God and the New Atheism.
Priscilla J. Friesen, LCSW, has been associated with the Bowen Center since l978. Presently Ms. Friesen is assisting the Bowen Center, Bowen family, and the National Library of Medicine to make the Bowen Archives available to the world. Ms. Friesen's professional and personal interest has been in the brain, physiology, and relationships. In the fall of 2005, she founded The Learning Space with Regina Carrick and Glennon Gordon. Guided by the framework of Bowen theory, The Learning Space has interwoven self-regulation methodologies, particularly neurofeedback (brainwave training) into its work with individuals, couples, and families. It has also developed programs for professionals and the broader community.
To find out more about the conference or to register for it, contact Joseph Carolin.