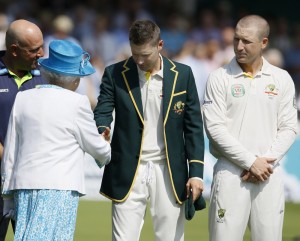 It is probably the most self-indulgent decision I have ever made: this summer I stopped off in London for a few days on my way to Spain in order to meet up with friend Christopher Southgate and spend a day at the home of cricket: Lords. We were to watch the beginning of the second test between Australia and England—the famous "Ashes" series. Though the test did not go well from an Australian point of view, honors were fairly even on the first day, so I had a great time, and I enjoyed Christopher's company.
I had work to do on the trip, so I didn't really go just for the cricket. But it is the day at the cricket that stays with me. That and the Queen of England. The Queen, you say? Why yes.
A big highlight of the day was the visit of Queen Elizabeth II to Lords Cricket Ground. She met the players on the field and then sat in the Members' Pavilion where everyone could see her while she watched the first couple of hours of the game. It was my first opportunity to lay my eyes on the great monarch, who is after all the head of state of my country of origin. The picture (from AP) shows her meeting Australian captain Michael Clarke, with coach Darren Lehmann on one side and vice-captain Brad Haddin on the other. She is a grand old lady and one of my favorite human beings.